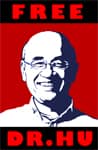 We would like to congratulate Dr. Hu Zhicheng and thank all the friends who helped secure his release along the way. He was extorted and imprisoned and eventually exonerated due to people trying to steal his intellectual property. The technology Dr. Hu has developed can reduce over 90% of emissions from automobiles and factories and he was a threat to vested interests.
More details about Dr. Hu's ordeal and release can be found here.
His nightmare journey should never have happened and reinforces the need for rule of law.